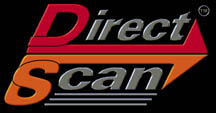 Service Bulletins

Running under Windows
DirectScan still requires native DOS to perform realtime data capture.
However, you can run DirectScan under Windows in order to review previously saved buffers (log files)... with a little help.
Try a program called "DOSBox". It's purpose is to emulate DOS under many different OS's - including Windows Vista and even Mac OS X. With it, you should be able to run DirectScan and perform all of the normal functions available under native DOS - with the exception of realtime data viewing and capture. This is useful if you would like to review the recorded buffers at some later time on your desktop PC (or Mac).
To try it out, point your web browser here: http://www.dosbox.com.
Usual disclaimer: Chu Engineering is in no way affiliated with the makers of DOSBox. Use DOSBox at your own risk. No support from Chu Engineering for DOSBox is given or otherwise implied.
DirectScan EMI Shield

Some vehicles by nature produce more EMI noise than other vehicles. This "noise" emminates primarily from the ignition system - i.e.: spark plug wires, ignition coils, etc. This noise has been known to transfer onto the DirectScan ECM ribbon cable and cause erratic behavior.
Known behavior / symptoms include:

Normal operation while cruising but suttering at WOT.
Strange, intermittent "hickups" or stuttering during vehicle operation (idle, cruise, and / or WOT).
Only occurs when DirectScan is attached to the ECM. The laptop can either be connected or not to show these symptoms. The symptoms have also been known to occur with just the ribbon cable attached.

To remedy the issue, an EMI shield can be placed over the ribbon cable to prevent this noise from coupling to the ECM. If you believe that you need the shield, please contact Conley's Performance Plus at (281) 540-FAST to request it. As with any service call, please have your unit serial number ready.

DirectScan adaptor

Some laptops have been encountered which do not fully adhere to the original IBM parallel port standard, and thus do not correctly function with DirectScan version 1.0. The laptops seen (so far) to exhibit this behavior include:

| | |
| --- | --- |
| Compaq Aero | Compaq LTE Elite |
| Toshiba Satellite 105CS | Toshiba 2155CDS |

To correct this, a new DirectScan adaptor has been developed. This adaptor requires Software Version 1.1.
If you see the following on your laptop, then you may have a similar laptop and require the adaptor for correct DirectScan functionality. All measurements are taken with the key on, engine off, and after power to the ECM has been disconnected for a few seconds, then reconnected. These are only some of the readings you may encounter.

| | |
| --- | --- |
| MPH = 16 | RPM = 187 |
| All 16 BLMs = 143 | TPS = 0.62 |
| Spark Adv. = 5.27 | Spark Rtd. = 5.27 |

If you believe that you need an adaptor, please contact Conley's Performance Plus at (281) 540-FAST to order an adaptor.
Note: Version 1.5 of the Hardware Interface Module has the adaptor "built-in". Thus, if you have one of the above mentioned laptops, using Hardware version 1.5 should prevent the above issues from occuring.

"Thrasher" brand chips

On some vehicles, there appears to be an incompatability between the "Thrasher" brand ECM chips and DirectScan. Some vehicles exhibit strange behaviors ranging from switching to "limp home" mode after running for 10+ minutes to causing the car to stutter to simply displaying erratic data on DirectScan during DFCO mode.
Unfortunately, the company which developed the "Thrasher" brand ECM chips is no longer doing development on this chip.
Remedies to avoid this problem have ranged from switching to other brand ECM chips to finding a version of the "Thrasher" brand ECM chips which do not exhibit these problems.

Last Updated: 9/25/08

HTML by: Kent Chu, Chu Engineering